Careers in Bioscience Entrepreneurship
The US graduate student STEM structure is badly in need of reform. PhDs can't find academic jobs and they are trained for little else, the training takes too long and is too expensive and posts docs in purgatory become indentured scientists with burdensome debt or, possibly, taxes they won't be able to pay on the income they have to declare.
One alternative is to train graduate STEAM students in entrepreneurship. No, that does not mean only creating companies, but rather the pursuit of opportunity under conditions of uncertainty with the goal of creating user defined value through the discovery and deployment of bioscience and engineering innovation. Using that definition, whether you intend to pursue a career in academic basic research or collaborate more closely with industry, or work for industry or start you own company, the non-technical skills, like business skills, emotional intelligence skills and other "soft skills" are becoming more and more essential. It is unfortunate that you will most likely not learn them, however, during your training.
On the other hand, recognizing the need to give graduate students the knowledge,skills, abilities and competencies to compete in both an academic and non-academic career track, more schools are offering bioentrepreneurship education and training and experiential learning opportunities in industry.
Many think that scientists and doctors make terrible entrepreneurs. I disagree.
If you are a biomedical science or engineering graduate student and considering Plan B, here is a guide to your alternative career pathway:
Prepare for an entrepreneurial career track by adopting an entrepreneurial mindset and working as if you are on contract, not a grant.
To be successful, you will need biobusiness education, resources, networks, mentors, experience and social support systems so begin to take advantage of free and available resources to find them. Here is a place to start.
Write a personal and professional development plan Here is something to give you a lay of the land.
Have a conversation with your PI or graduate school dean about your career objectives and what resources are available to help you. Do not be surprised if you are considered not "one of the tribe" for even thinking of going to the dark side. The fact is that the biomedical research culture is not accepting of change or accommodation when it comes to career alternatives to academic research. If that happens, then you will have to ask for forgiveness instead of permission to pursue your goals.
If you are interested in bioentrepreneurship, pick a place to go to graduate school that has not only a reputation for top ranked graduate science or engineering education, but is also located in a robust and supportive innovation ecosystem. The vast majority of life science venture money, e.g. ,comes from three or four coastal cities.
Build your personal brand by updating and populating your Linkedin site or other social media platforms. Here are some Linkedin tips for scientists.
Start exploring science and engineering job boards and update your profile on a regular basis. Consider talking to a executive search professional. DOC is the premier recruiting site for doctors and scientists pursuing innovative careers. Over 1,000 employers have used DOC to recruit top biomedical talent including leading investment banks, private equity and venture capital funds, biopharmaceutical and medical device companies, consulting firms, healthcare IT and startup companies, technology transfer offices, and many others across the healthcare spectrum.The DOC community has 41,487 members in all 50 US states and 124 countries.
9.Take an industry internship, apprenticeship or experiential learning opportunity. If there are none offered, create your own.
10. Think divergently at the beginning and sample, test and experiment with different workplace or career pathway opportunities such as technology transfer, intellectual property law options, financial services, sales and marketing or business development slots, regulatory affairs positions or scientific writing and communications or policy. Several organizations, like the AAAS, offer fellowships and scholarships to do this.
There is a PhD problem and graduate students applicants should know about it before taking the leap.
In the meantime, strategic career planning, like business strategic planning, is designed to answer some basic questions-1)where are you now?, 2) where do you want to go? , 3) what will you need to do to get there? With talent, opportunity, luck and determination and open eyes based on an adequate job preview and understanding, the "there" will be your ikigai.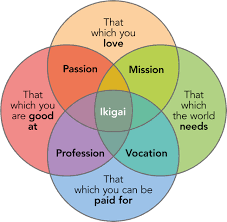 Arlen Meyers, MD, MBA is the President and CEO of the Society of Physician Entrepreneurs